Dublin Fringe Festival takes place from 6-19 September. To view the full programme and buy tickets, see fringefest.com.
Dublin Fringe Festival is home to bold ideas, brave performing arts and adventures audiences. Fringe is a curated, multi-disciplinary festival and year-round organisation focusing on fresh and innovative approaches to the arts from Irish and international makers.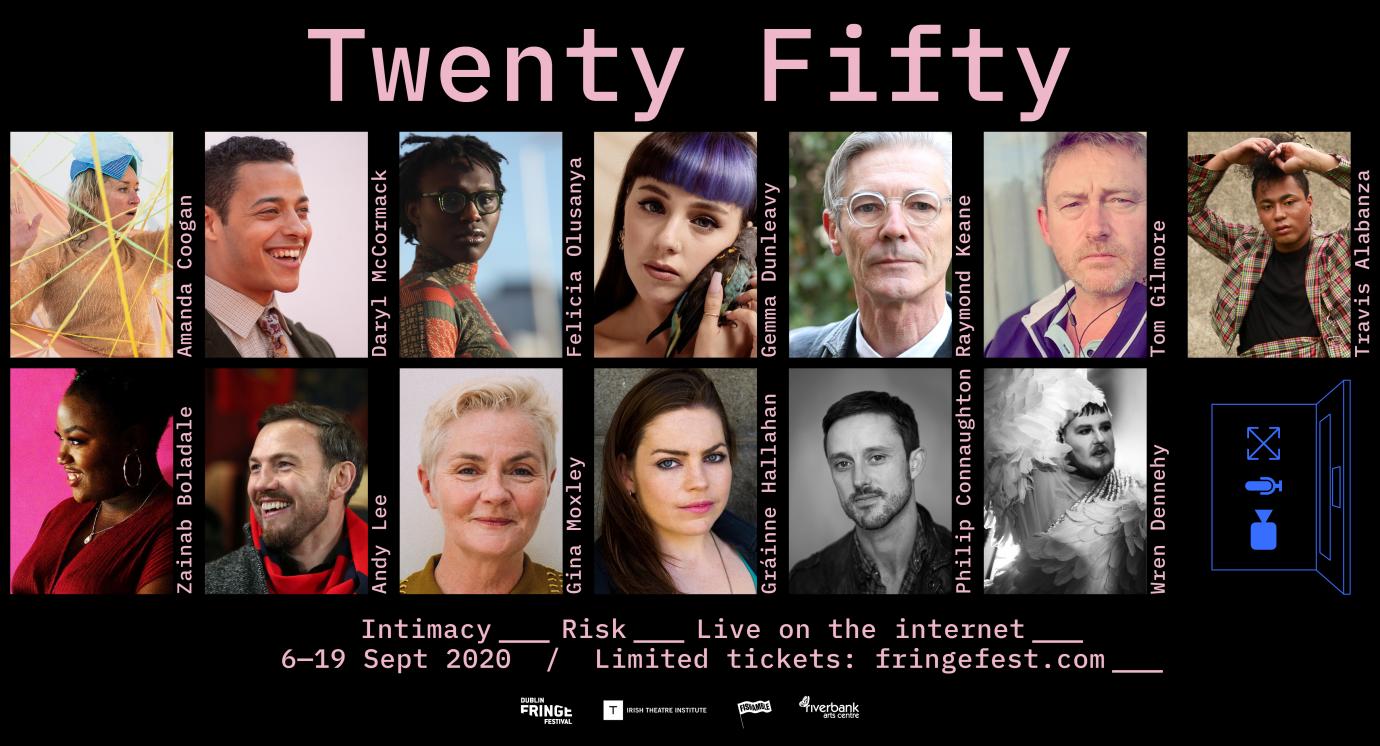 The festival is where artists challenge, subvert and invigorate their disciplines and practice. An active curator, Fringe supports artistic vision, ambition and excellence across a range of art forms. It offers supports, resources, space, time and professional development to the Irish independent arts sector.
Followed by fans and first-timers alike, Dublin Fringe Festival draws more than 30,000 spectators for 16 days and nights each September, transforming Dublin into an exposé of great creative talent from around the globe. The scale and environment of the festival broadens arts participation, introducing artist sand audiences and playing a pivotal role in the fabric of Dublin and Irish Cultural life.
Dublin Fringe Festival is a platform for the best new, emerging Irish arts companies and a showcase for the finest international contemporary performing arts. For artists, Fringe facilitates opportunities to innovate, to cross boundaries and strengthen the conditions in which they work. For audiences, Fringe is the place to discover meaningful, exciting and unforgettable cultural experiences.
Visit: https://www.fringefest.com/ for Tickets and more info.
National Campaign for the Arts – TV Ad
The National Campaign for the Arts is a volunteer-led, grassroots movement that makes the case for the arts in Ireland. They work to ensure that the arts are on local and national government agendas and are recognised as a vital part of contemporary Irish life.
The NCFA work is continuous, and focuses on sectoral engagement, policy analysis and research, and advocacy. Since its establishment 2009, many people have gifted their time in support of the NCFA by joining committees, coordinating actions, running campaigns and advocating for research.

The National Council for the ARts are made up of a Steering Group, a broader advisory group and working groups. The Steering Group is responsible for long-term strategy and its members focus on specific campaigns or research objectives. Occasionally, supporters may volunteer or be invited to bring their expertise to a working group, undertaking a specific campaign or research task within an agreed time frame.

Click here to register your support to the NCFA
They are a voluntary organisation, relying on supporters' donations and participation in fundraising events and campaigns to cover essential costs. "We thank everyone for giving what you can to keep the work going. We accept donations according to the Standards in Public Office Act 2001. Click here to donate to the NCFA. "

The current Steering Group is Angela Dorgan (Chair), Eoghan Carrick, Tom Creed, Aileen Galvin, Aideen Howard, Georgina Jackson, Cian O'Brien, Liv O'Donoghue.
Early in 2017, the NCFA undertook an insight survey, encompassing a sample of 1,000 respondents across our membership and the general public. NCFA Community Survey indicated worry across the entire sector about Creative Ireland's focus on publicity and marketing over long term sustainable policy change and investment.
The insight gleaned through this process indicated strong support for the organisation's priorities as well as some unique feedback regarding new policy initiatives, such as Creative Ireland. The NCFA's pre-budget submission reiterated that Ireland spends 0.2% of GDP on cultural services (Eurostat), exactly half the EU-28 average – placing Ireland among the bottom three EU countries for cultural spend. NCFA welcomed the commitment made by An Taoiseach to double investment in the arts over seven years and the commitment, alongside the re-prioritisation of arts and culture in other policy measures, of the creation of a Department of Culture, indicate a much-needed move to place arts and culture at the centre of government thinking.
Following the budget, there was widespread disappointed as the Government rhetoric was not translated into investment. Budget allocations to key organisations were modest. The Taoiseach's commitment to doubling investment in the sector over 7 years would have required a minimum 10% year on year increase.
Later in the year, the Government responded to our calls for reform of the social welfare system for artists by introducing a new pilot scheme for visual artists and writers. We have called for its early expansion to include performing artists.
In November, the NCFA joined with colleagues in the theatre community in condemning sexual harassment in our workplaces. The NCFA, in advocating for the ongoing improvement of the working lives and conditions of artists, recognised the importance of safe and supportive working environments and as such, encouraged the arts community to put in place adequate policies and supports to ensure that sexual harassment has no place in arts organisations.
Find out more on the campaign here
Follow NCFA on Twitter
Follow NCFA on Facebook